Jogaila Vladislovas (Wladyslaw II Jagiello) (1386 - 1392)
Obverse: Shield of arms with double cross, three pellets above and at each side of the shield of arms, pellet at each side of double cross. Russian legend.
Lettering: КНЯЗЬ ЯГАЙЛО
Reverse: The Knight with lancer facing right, three pellets at the lancer's end. Russian legend.
Lettering: КНЯЗЬ ЯГАЙЛО
Identification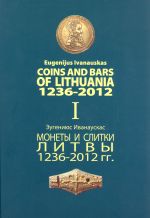 Ivanauskas, E. (2013). Coins and Bars of Lithuania 1236-2012 (Vol. 1). Kaunas: Author
number: 5J2-1
Rarity: RR (Not more than 50 pieces)
Main data
Denomination: Quarter of the groat
Year: 1387 - 1392 (Undated)
Minting
Parameters