Sigismund IV Vasa (1588 - 1632)
Obverse: Crowned monogram "S". Date by "S". Die of Johan Stippelt.
Lettering: 1 S 4 / SIG III D G REX P M D L
Reverse: "Bagoria" arms below crowned two shields. Trefoil at the end of legend. Eagle with "Snop" arms. Die of Johan Trillner.
Lettering: SOLIDVS /

/ M D LIT /

/
Identification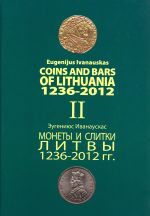 Ivanauskas, E. (2013). Coins and Bars of Lithuania 1236-2012 (Vol. 2). Kaunas: Author
number: 2SV25-11
Rarity: RR (Not more than 50 pieces)
Main data
Minting
Engraver: Johan Stippelt / Johan Trillner
Parameters